"Geo Mirai" Communication Vehicle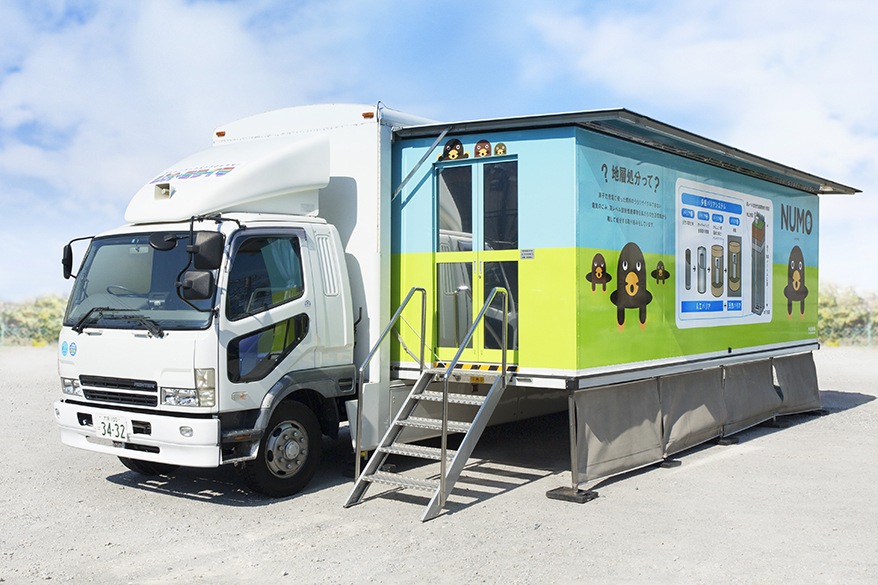 NUMO has been carrying out outdoor events on geological disposal with its communication vehicle, "Geo Mirai" in various places, such as science museums, commercial facilities and parks throughout Japan. Aim of such events is to enhance face-to-face dialogue with the public, especially families.
Each event has three main sections: 3D animation movie, hands-on experiments with bentonite clay and exhibition of a real scale model of multiple barrier system, etc.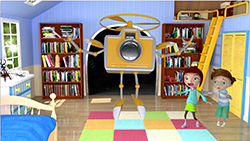 Image from 3D animation movie
3D animation movie
Introduces safe geological disposal of HLW through a movie comprehensible to children. They can learn geological disposal through a trip to underground and a future repository.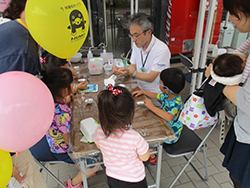 NUMO staff explains to participants.
Hands-on experiments with bentonite clay
Participants can learn swelling and sealing characteristics of bentonite clay and feel how it works as an engineered barrier.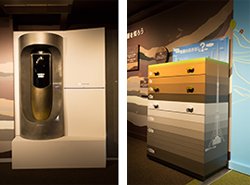 Exhibition
Hands-on exhibition, e.g. a real scale model of multiple barrier system and a drawer of geological formation, is installed in the vehicle.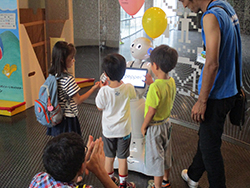 Children answer to a quiz from Pepper.
Communication robot "Pepper"
Newly introduced communication robot, "Pepper" attracts children and it encourages more people to participate in events.
Number of locations, days and participants to events
FY2014: 27 venues, 38 days, 12,445 people
FY2015: 29 venues, 53 days, 16,892 people
FY2016: 33 venues, 69 days, 28,891 people