International seminar on communication with the public in the process of site selection in Switzerland was held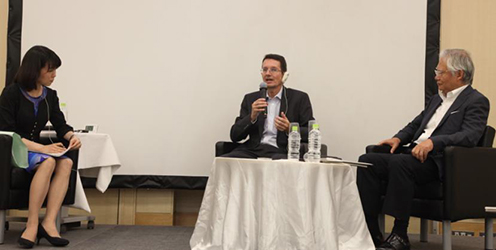 On July 8, 2016, NUMO held an international seminar on communication with the public in the process of site selection for deep geological disposal in Switzerland, with about 130 people of audience. Dr. Thomas Ernst, CEO of Nagra (National Cooperative for the Disposal of Radioactive Waste), gave a keynote presentation. He explained the current status of the Swiss radioactive waste management including Sectoral Plan "Deep Geological Repositories", a three-staged siting programme, and the public outreach with audiovisual exhibitions such as "TIME RIDE". In the round-table discussion, it was shared that the key points for communication with the public are face-to-face communication with "gratitude" and "respect" based on the three necessary conditions: rules with transparency and fairness; sharing a strong will to resolve the issue among all the public; and carrying out each responsibility with clear role allocation. The seminar programme is as follows:
| | |
| --- | --- |
| Date: | July 8, Friday, 2016 |
| Time: | 1:30 p.m. through 3:45 p.m. |
| Venue: | Otemachi Sankei Plaza, Tokyo |
Programme:
1.
Welcome remarks


Dr. Kondo Shunsuke, President, NUMO



2.
Presentation


"Radioactive waste management in Switzerland, Site selection process - progress, experience and outlook" by Dr. Thomas Ernst, CEO, Nagra



3.
Round-table discussion: Communication with the public of Nagra


Dr. Thomas Ernst

Ms. Takeuchi Sumiko

Senior Fellow
Member, Board of Directors
International Environment and Economy Institute
Visiting Professor, University of Tsukuba

Dr. Kondo Shunsuke
The presentation material is available for download here.
The details of the seminar including the video are posted on Japanese pages (only in Japanese).